Introducing the
Do It Yourself Clip Screen,
the latest in Storm Smart's Storm Catcher™ line.

Looking for a simple way to protect your home from inclement weather without breaking the bank?
Tired of lugging heavy shutters or plywood to protect your home?
At just under 10 ounces per square yard, the
Storm Catcher™ DIY Clip Screen
takes the heavy lifting and work out of protecting your home. Unlike plywood, aluminum shutters, or metal shutters, the DIY Clip Screen can be installed and uninstalled
almost effortlessly in minutes
.
Unlike many other forms of hurricane protection, you can install the DIY Clip Screen yourself. Follow our instructional installation video, and in just a few simple steps you can protect your home from impending storms, and feel secure knowing that both your home and family are safe.
Best of all, this cutting edge form of hurricane protection is reasonably priced to fit most homeowners' budget.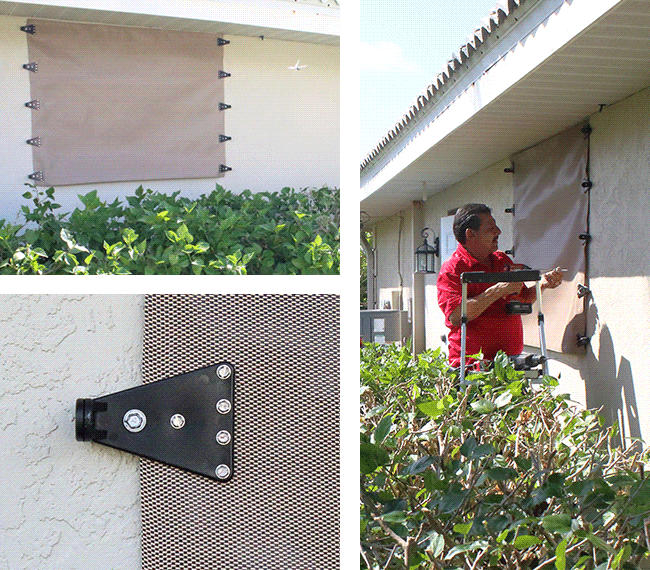 What is the DIY Clip Screen?
Through state-of-the-art technology and ongoing research and development, the full line of Storm Catcher™ hurricane screens is recognized as
one of the most innovative and technologically advanced products
in the world of hurricane protection.
The new Storm Catcher™ DIY Clip Screen continues that cutting-edge tradition. Our screen is constructed of polypropylene, woven mono-filament geo-textile fabric, providing a densely porous material that is 95 percent solid. This design can decrease a hurricane's destructive winds by 95 percent, thereby reducing 150-mph winds to a gentle breeze. However, the material is still open enough to be transparent, allowing homeowners to use the screens as year-round protection from everyday sun, rain, and more.
Florida Building Code approved (FL 29706)
Lightweight, easy to install and uninstall
Highly effective protection for windows and doors against violent storms and flying debris
Avoids "cave like" feeling that other hurricane protection produce
Affordable hurricane protection providing maximum defense
How to Install Your Storm Catcher™ DIY Clip Screen