Storm Catcher Screens for Homes in Sarasota, FL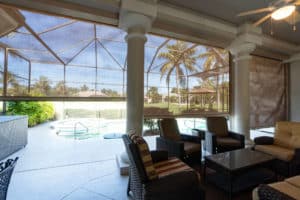 If you're searching for hurricane screens in Sarasota, Florida, that will give you the most value for your investment, turn to the experts at Storm Smart. We have been an industry-leading provider of hurricane protection products since 1996, and we have installed more than 28 million feet of our Storm Catcher hurricane screens. These lightweight, fabric-based screens are an excellent alternative to aluminum shutters and they're backed by an unbeatable lifetime warranty, so you can feel confident that your investment is secure.
Armor for Your Home
Storm Catcher screens provide ample benefits for homeowners who want to avoid the chaos of hurricane prep while still ensuring the safety of their homes. These screens are:
Strong – Storm Catcher screens are exceptionally tough and can withstand wind gusts of up to 150 mph. They will also effectively block up to 95% of wind and rain, preventing these elements from entering your home and causing extensive damage.
Versatile – We have several different screens available to suit your home, preferences, and budget, including easy screens, slide screens, roll-down screens and strap and buckle screens. They can be used to cover patios, windows, and virtually any other large opening of your home and can be operated using several devices, including remote control, smart phone, and smart hub devices.
Energy efficient – These screens will help insulate your home, stabilizing its interior temperatures year-round and potentially lowering your monthly energy costs.
Contact Storm Smart today to learn more about the Storm Catcher screens we offer. We are proud to serve homeowners in the Sarasota, FL, area and beyond.