Storm Smart donates $20K to Sarasota's All Faiths Food Bank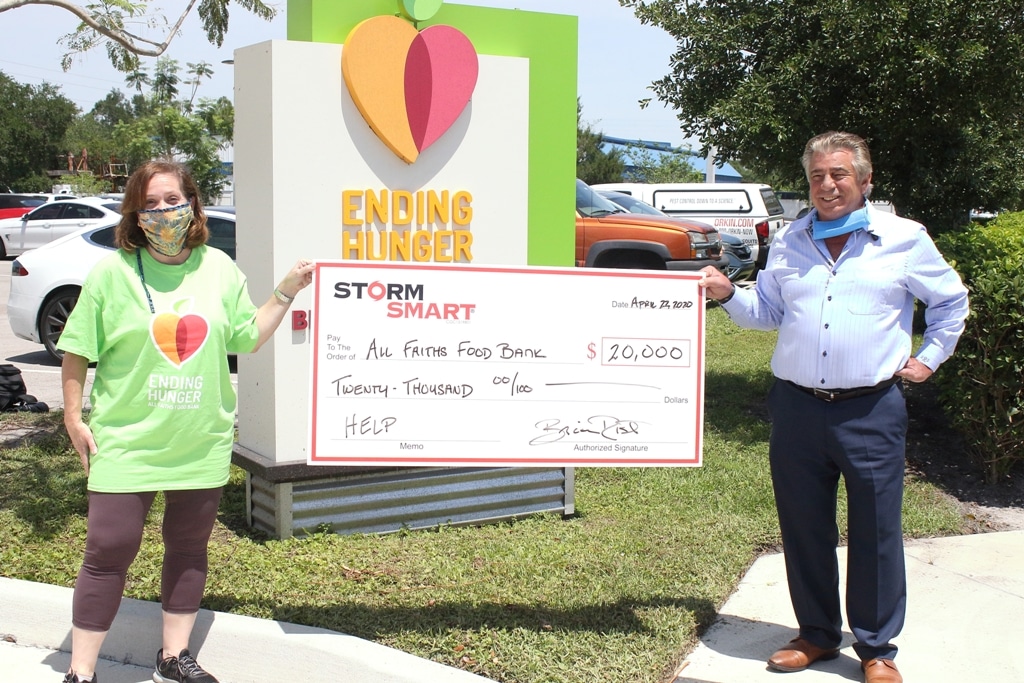 On Wednesday, April 22, Storm Smart Executive Chairman Brian Rist presented a donation of $20,000 to All Faiths Food Bank in Sarasota.
The donation will go to the organization's "Summer Hunger" campaign, which is matching donations dollar for dollar through May 15. This donation will provide $40,000 in food to the Sarasota, Manatee, Charlotte, and DeSoto Counties area.
All Faiths Food Bank is the largest food bank in the Sarasota area. The organization has seen an increased call for food since the outbreak of the Coronavirus.
The donation from Storm Smart is the company's latest initiative in helping local communities during the COVID-19 pandemic, "Recently, Storm Smart recorded public service announcements for our local market and was looking for ways to help out Sarasota and surrounding counties, particularly amid the COVID-19 pandemic," Rist said. "We quickly discovered that All Faiths Food Bank is making a great impact in Sarasota and DeSoto counties by serving over 66,000 people. Our contribution will continue such a worthwhile initiative at a time when the whole world is being called on to help others."
Upon seeing the food bank's operation during Wednesday's check presentation, Rist says he is hopeful the company can do more on an ongoing basis to get involved with the organization to help those in need in the Sarasota area.
For more information on how funds are being allocated, visit www.allfaithsfoodbank.org.