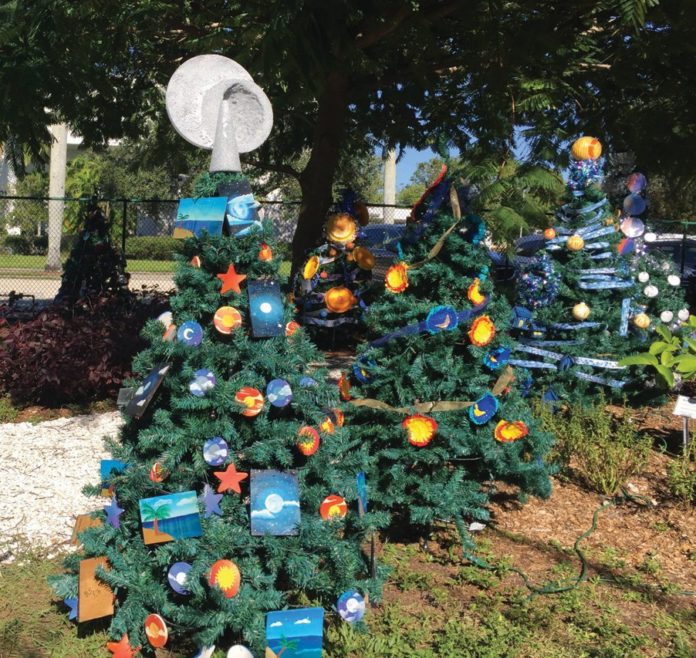 Edison and Ford Winter Estates received a $3,000 sponsorship from Storm Smart for the organization's Children's Tree Trail. The sponsorship provides stipends to local schools for art supplies that children use to make ornaments. The Tree Trail is part of the annual Holiday Nights celebration and is open to the public through Dec. 30.
"Storm Smart is honored to partner with the Estates and help make the Children's Tree Trail possible," said Brian Rist, Storm Smart executive chairman. "I am happy to support the teachers and art students from the participating Lee County schools and am looking forward to seeing all of the handmade ornaments that the kids made."
In its 12th year, the Children's Tree Trail includes more than 60 trees that Edison Ford provides for area school children to decorate with their handmade ornaments. Each year, a different theme is selected. This year, the theme is Moonlight and Sunshine and all of the trees are decorated accordingly.
Visitors can walk through the Children's Tree Trail for free or tour the remainder of the site included with general admission. Guided Holiday Tradition Tours are offered at 6 and 7 p.m. every night and Inside-the-Homes Holiday Tours are offered on Wednesdays at 6:30 p.m. and on Dec. 21, 22 and 23 (reservations required for inside-the-homes tours). The museum and the botanic research laboratory are open nightly until 9 p.m. Live music performances include Victorian carolers and a pianist on select nights.
Holiday Nights tickets for adults are $20, teens (13-19) $10, children (6-12) are $2 and Edison Ford members get in free. Guided Holiday Tradition Tours are $30 for adults, teens are $25, children $18 and $10 for Edison Ford members. Inside-the-Homes Holiday Tours are $50. Lee County residents with identification will receive $5 off Holiday Nights admission every Sunday and Monday.
To purchase tickets or view the nightly schedule, visit the website at www.edisonfordwinterestates.org.