Improve Energy Efficiency With

UV-Reflective Solar Screens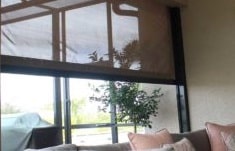 It's no secret that your home's thermal performance is largely dependent on your windows. Older windows tend to allow heat from the hot Florida sun to seep into your home, causing your air conditioner to work harder than it needs to. And while replacing your windows with new energy-efficient models will certainly relieve the issue, some homeowners may not have the resources to invest in such a large project. For a more economical alternative that's just as effective, choose solar screens from Storm Smart.
An Optimal Solution for Your "Problem Rooms"
Every home in Florida seems to have at least one room that stays warmer than the rest of the house, no matter how long the HVAC has been running. Storm Smart's solar window screens are the perfect way to keep these rooms cool without lowering the thermostat, which would drive up your energy usage, or making a heavy investment in new windows.
How Our Solar Screens Work
Made from durable, PVC-coated polyester, our solar screens are formulated to absorb the sun's UV radiation and reflect it away from your home. In fact, with our solar screens installed, up to 90% of heat will be absorbed, reflected, and dissipated before it strikes your windows, reducing the interior temperature by as much as 15 degrees and delivering energy savings of up to 30%. Our solar screens vastly outperform window films and similar products.
Additional Benefits
Storm Smart's full-length solar screens cover the entire window and will deliver superior energy efficiency benefits without obstructing your views of the outdoors. They may even earn you federal tax benefits! They will also help protect your furniture and other interior décor from fading. Plus, our solar window screens are flame resistant.
You no longer have to keep your curtains or blinds closed to prevent heat from entering your home. Open up those windows treatments, let the light in, and remain comfortably cool with our solar screens installed. To learn more, contact Storm Smart or visit our showroom in Fort Myers or Naples today.