Hurricane Window Panels
That Last a Lifetime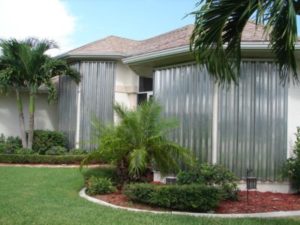 For a cost-effective, storm protection solution, Storm Smart recommends hurricane window panels. Available in either 24-gauge steel or high-strength aluminum, our metal storm panels are strong enough to withstand impact damage from nearly any flying debris. In fact, they pass and exceed wind- and impact-test requirements established by the Florida Building Code, so you can rest assured that you'll be protected the next time a storm rolls through.
Features & Benefits
Our hurricane window panels feature a corrugated design to minimize the space needed to store them when not in use. The tracking for your panels can be installed over nearly any opening, and the panels smoothly slide into the tracking for quick and easy deployment. The metal material will never warp, rot, or delaminate, so you will be able to use them indefinitely.
Installation Options
At Storm Smart, we can design the tracking system for your metal storm panels to be permanent, so that it's always at the ready, or temporary to agree with your aesthetic preferences. We can also install a code-approved emergency escape panel so you can have peace of mind knowing that you can clear out of your home quickly if needed.
Schedule Your Consultation Today
Storm Smart is a local leader in the storm protection industry, offering high-performing hurricane window panels to our valued customers throughout the southwest Florida area. To learn more about equipping your home with metal storm panels, contact us today or feel free to visit one of our showrooms in Fort Myers and Naples.