Easy Hurricane Screens
That Protect Florida Homes From High Winds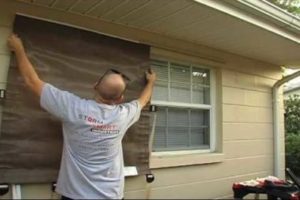 Storm Catcher Easy Screens are a convenient, flexible alternative to other types of hurricane protection, such as plywood boards, which are clunky to install, block off your view of the outside, and essentially turn your home into a dark cave. Manufactured by the experts at Storm Smart, our easy hurricane screens are lightweight, simple to install, and are translucent so that you can still see out of your home during a storm.
Superior Protection From the Elements
The Storm Smart series features a technologically advanced, densely porous fabric mesh that effectively blocks up to 95% of wind energy, reducing gusts of up to 150 mph to a slight breeze. That's an outstanding level of protection for your Florida home!
Quick & Easy Deployment
We call them easy hurricane screens for a reason: They are a cinch to install. Simply slide the screen along a decorative low-profile track at the top, fasten the straps along the sides and bottom, and voilà—instant hurricane protection! No tools required and no fasteners to keep track of.
An Affordable & Highly Effective Solution
At Storm Smart, we are innovators of storm-protection solutions, and we believe our hurricane screens are the best choice for local homeowners looking to protect their homes from the elements. We've installed more than 28 million feet of Storm Catcher screens, which speaks to their efficacy and popularity. Your new Storm Smart Easy Screens will come with a lifetime warranty as further assurance that your investment is well-founded.
To see our easy hurricane screens in person, feel free to stop by our showroom in Fort Myers or Naples. Or simply contact Storm Smart today and we'll be happy to provide more information.