Accordion Shutters That Will Fortify Your Bonita Springs, FL, Home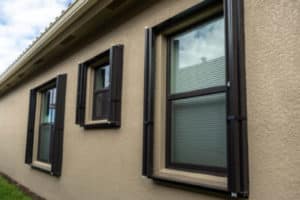 Are you looking for hassle-free hurricane protection for your home in the Bonita Springs, Florida, area? If so, turn to the experts at Storm Smart. Since our founding in 1996, we have been the industry's leading manufacturer and installer of hurricane protection products, and our accordion shutters are one of them. These shutters feature vertical slats and can cover openings of any width, so whether it's for your windows, doors, patio, or balcony, you're sure to get the protection you need.
Unparalleled Strength & Security
The accordion shutters from Storm Smart are made of heavy-gauge aluminum, and they're tough enough to handle whatever Mother Nature throws their way. In fact, these shutters exceed the Florida Building Code's wind and impact tests—the most stringent in the country—so you can rest assured they'll withstand hurricane-force winds and prevent flying debris from damaging your home.
In addition to being exceptionally strong, our accordion shutters:
Provide an impenetrable barrier that will prevent would-be intruders from being able to break into your home
Easily glide open and closed thanks to a stainless steel roller carriage system, self-lubricating wheels, and a felt-lined track
Will be expertly installed to ensure that they perform as intended for decades to come
With our accordion shutters installed, you'll say goodbye to the days of rushing to the store for plywood boards when a hurricane looms, since you'll always be hurricane-ready!
If you would like to learn more about this top-of-the-line product, contact Storm Smart today. We'd be happy to answer your questions, schedule a free virtual or in-home consultation, and tell you about the flexible financing options available to Bonita Springs, FL, homeowners who qualify.