Stylish & Strong Bahama Shutters for Homes in Bonita Springs, FL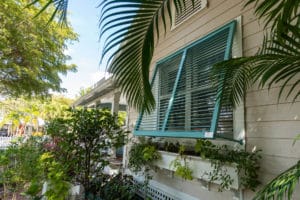 Living in Bonita Springs, Florida, certainly has its perks. From the warm weather and palm trees to sun and beaches, this region can make you feel like you're on vacation year-round. However, there is one drawback that every Floridian knows about all too well: hurricanes. These powerful storms have the potential to cause widespread devastation every year, but there is a way you can protect your home from its worst effects: invest in Bahama shutters from Storm Smart.
Why You Should Partner With Us
Storm Smart has been the leading manufacturer and installer of hurricane protection products in the industry since our founding in 1996. We have helped more than 80,000 customers and counting safeguard their homes from extreme weather, and we maintain a trusted reputation for the high-performing selection we offer time and again. When you turn to us for shutters, you'll receive a product that is made of heavy-gauge aluminum and has passed the impact and wind tests set forth by the Florida Building Code, which has the most stringent requirements in the country.
Not only are our Bahama shutters exceptionally strong, they're also easy to use. Featuring an attractive louvered awning design, these shutters are permanently installed on your home and can be opened and closed with a telescopic arm—so you'll always be hurricane ready! And, since our Bahama shutters are virtually impenetrable, you can be confident they'll thwart any break-in attempts, which is especially beneficial if you have to leave town during the storm.
If you're ready to have beautiful and strong Bahama shutters installed on your home, contact Storm Smart today. We proudly serve homeowners in the Bonita Springs, FL, area, and beyond.