Hurricane Panels for Homes in the Bonita Springs, FL, Area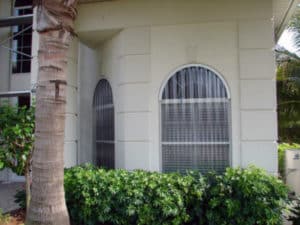 Your home is likely your most important investment, so it makes sense to want to protect it in every way possible. If you live in the Bonita Springs, Florida, area, one of the most obvious ways that you can safeguard your house is by investing in hurricane panels, and we have the finest selection at Storm Smart. These panels will help prevent you from having to board up your home with plywood every time the threat of a hurricane looms. Instead, our panels come with a track that can be permanently installed on your home, allowing you to simply slide the panel into the place when a storm is approaching. We offer two different types of hurricane panels to choose from:
Metal Panels
Available in 24-gauge steel or heavy-duty aluminum, our corrugated metal panels are designed to be incredibly strong and durable, and will not warp over time or rot. They are able to withstand heavy winds, rain, hail, impact from airborne debris, and other extreme weather conditions year after year—in fact, they exceed wind- and impact-test requirements established by the Florida Building Code, so you can have total peace of mind when the next storm hits.
Clear Panels
Our clear Lexan storm panels provide the same incredible strength of metal, but with an aesthetically pleasing see-through design. This means that while you will have maximum protection in case a storm strikes, and still be able to enjoy natural light coming into your windows, rather than feeling like you're in a cave.
Furthermore, both of our storm panels can be installed over any opening, and they can feature emergency escape panels, should you need to get out of your home quickly.
Contact Storm Smart today to learn more about the hurricane panels that we offer to homeowners in the Bonita Springs, FL, area. And don't forget to ask about the flexible financing options available to all those who qualify.