Storm Catcher Screens for Homes in Cape Coral, FL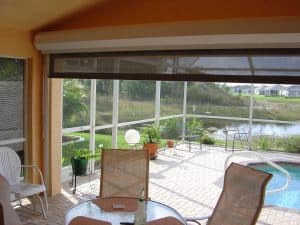 If you live in Cape Coral, Florida, you're all too familiar with the threat of hurricanes and other severe storms that is always looming. At Storm Smart, we can help you be proactive about protecting your home using our Storm Catcher screens. These lightweight, fabric-based screens are an alternative to aluminum shutters and block 95% of wind and rain. Incredibly, they can withstand hurricane-force winds up to 150 mph, as well as impact from windblown debris. Simply put, a Storm Catcher screen is like armor that will shield your home from the elements year after year.
Versatile & Convenient
We have several different Storm Catcher screens for you to choose from, including rolling screens, slide screens, and strap and buckle screens. While each of these options offer their own unique features and benefits, they all:
Are easy to use – Our manual screens can be easily deployed, while our motorized options can be operated using your home's smart hub, your smart phone, or a remote control.
Reflect harsh UV rays – Our screens will help reflect the sun's UV rays, which will not only make your home more energy efficient, but it will also prevent your furniture from fading or discoloring.
Allow expansive views – Unlike aluminum shutters, our screens will allow the gorgeous natural light and fresh air to filter through, so you can have the protection your home needs without feeling like you're in a cave.
Contact Storm Smart today to learn more about the first-rate Storm Catcher screens that we offer to homeowners in the Cape Coral, FL, area. We'd be happy to answer any questions you may have and schedule your initial consultation.