Protect Your Home in Delray Beach, FL, by Investing in Hurricane Protection Products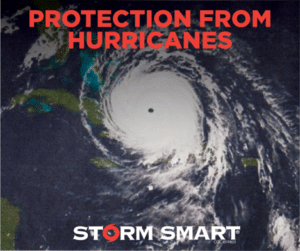 Gorgeous beaches, year-round golf, and abundant sunshine are some of the great things the Delray Beach, Florida, area has to offer. However, homeowners in this area know that while it's usually a beautiful place, there will undoubtedly be times when this area is faced with strong storms and even hurricanes, so it's a smart idea to prepare your home for when inclement weather strikes. At Storm Smart, we offer top-of-the-line hurricane protection products that are designed to stand up to strong storms.
Hurricane Protection Product Options
At Storm Smart, we like to provide options for our customers. Therefore, we offer a wide variety of hurricane protection products so you can select the best type that fits your style and budget. Our product selection includes:
Storm Catcher screens – We offer storm catcher screens that are easy to install and reduce wind speeds by up to 95%.
Windows and doors – The glass in our windows and doors has two panes separated by a layer of plastic, making them nearly impossible to break. Choose from various style options, all of which are energy efficient.
Aluminum shutters – Our aluminum shutters provide excellent protection from windblown debris and can be equipped with keyed locks to protect your home from potential intruders, which is ideal for homeowners who are leaving town to flee a storm.
Storm panels – These cost-effective and easy-to-deploy storm panels provide protection from windblown debris and have passed wind-and-impact resistant tests as required by the Florida Building Code.
Get Started Today
If you're ready to protect your home by having hurricane protection products installed, contact the professionals at Storm Smart. We proudly serve homeowners in Delray Beach, FL, and surrounding areas.