Top-Caliber Hurricane Screens for Homes in the Naples, FL, Area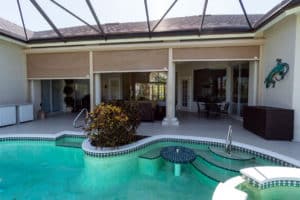 If you want to safeguard your home in the event of a hurricane, installing a heavy-duty hurricane screen is an excellent way to do so. For homeowners in the Naples, Florida, area, the company to turn to for the best hurricane screens in the industry is Storm Smart. We were founded in 1996, making us one of the most tenured and trusted providers of hurricane protection products in the area. Throughout the years, we have successfully installed countless Storm Catcher hurricane screens, and we would be happy to add you to our list of more than 80,000 extremely satisfied customers.
Storm Catcher Screens
At Storm Smart, we offer Storm Catcher screens, which are a lightweight, fabric-based alternative to aluminum shutters. These screens offer numerous benefits, including that they are:
Convenient – Our motorized hurricane screens can be conveniently operated using devices such as a remote control, smart hub, and smart phone.
Energy efficient – Our screens will help reflect the sun's harsh UV rays, stabilizing the interior temperature of your home and lowering the strain on your HVAC system, which can lead to reduced monthly energy costs.
Weather resistant – Of course, our screens are incredibly tough and will block 95% of wind and rain, protecting your home from becoming severely damaged by the most inclement weather conditions.
We have several hurricane screens available for you to choose from, including a rolling screen, slide screen, and more. Our seasoned professionals will work closely with you to navigate our selection and help you find the best option for your home, taste, and budget.
Contact Storm Smart today to learn more about the first-rate hurricane screens we offer to homeowners in the Naples, FL, area, and beyond.