Hurricane Panels for Homeowners in the Naples, FL, Area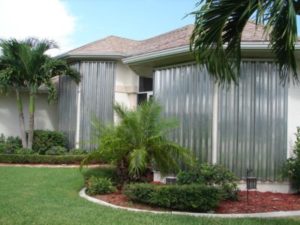 If you need dependable storm protection for your home in Naples, Florida, turn to the experts at Storm Smart. Since our founding in 1989, we have been providing hurricane protection products that are exceptionally strong, durable, and easy to operate—and our hurricane protection panels are no different. When you work with us, you'll be able to choose from corrugated steel or aluminum metal storm panels and clear Lexan panels that have a pleasing see-through design. Best of all, both of these panel options are:
Strong
Our metal and clear storm panels both pass the most stringent wind- and impact-resistance tests, as required by the Florida Building Code, so you can have peace of mind knowing that your home will be protected from the most extreme weather conditions, year after year.
Budget-Friendly
Our hurricane panels are surprisingly economical, so you can trust that we'll have an option that suits your needs and stays within your budget. We even have convenient financing options available to make our panels more attainable than ever.
Easy to Operate
Our hurricane panels are easily deployed along a track that can be permanently installed on your home. All you have to do is slide the panel into place as a storm approaches, and your heavy-duty protection will be in place—no trips to the home improvement store or plywood boards necessary!
Don't wait until the next big storm hits before you think about installing hurricane panels on your home. Contact Storm Smart today to learn more about our panels and the other hurricane protection products we offer to homeowners in the Naples, FL, area.