Masterfully Crafted Exterior Doors for Homes in Port Charlotte, FL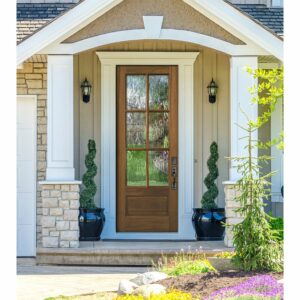 Looking for new exterior doors for your home in the Port Charlotte, Florida, area? If so, turn to the long-trusted professionals at Storm Smart. Since our founding in 1996, we have grown to become the largest manufacturer of code-approved hurricane protection products, and we've helped more than 80,000 customers safeguard their homes with our exterior doors, replacement windows, and other impact-resistant products. As our customer, you'll find that we have the best:
Selection
At Storm Smart, we offer exterior doors that have impact glass, which makes them virtually impenetrable and allows them to withstand the most extreme weather conditions and break-in attempts. In addition to being incredibly strong and secure, these doors are also energy efficient, so you can look forward to more comfortable interior temperatures and potentially even lower monthly heating and cooling costs. Of course, our exterior doors are beautiful as well, and can be customized using a vast array of stains, finishes, and other design options so that you can achieve a look you love.
Customer Service
At Storm Smart, we believe in providing each customer with a pleasant, smooth, hassle-free experience from start to finish, going above and beyond to not only meet—but exceed—all expectations.
Installation Team
Your exterior doors will only perform as well as they're installed. That is why we only use our own—never subcontracted—professionals who are highly trained, skilled, experienced, and will know how to perform your job to perfection.
To learn more about our company and the exterior doors that we offer to homeowners in the Port Charlotte, FL, area, contact Storm Smart today. When you do, don't forget to ask about the convenient financing options available to those who qualify.