Premium Hurricane Protection Products Available for Homeowners in Port Saint Lucie, FL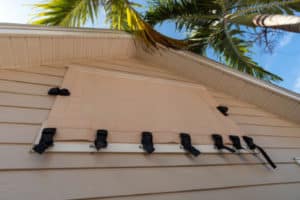 Living in Port St. Lucie, Florida, you get to enjoy beautiful parks, wide open spaces, and a relaxed way of life. But, when hurricane season hits, things can go from comfortable to stressful very quickly. You can protect your home from hurricanes and other storms without resorting to nailing pieces of plywood to your home. Storm Smart offers superior hurricane protection products that can keep your home ready all year round.
Our Storm Protection Products
At Storm Smart, we offer a variety of hurricane protection products that will help to protect your home from damage caused by storms, including:
Storm Catcher Screens
The storm catcher screens we offer are lightweight, translucent, and can reduce the impact of hurricane-force winds on your windows by up to 95%. Plus, they can even be enjoyed when the skies are clear as they also block out UV rays and can keep bugs outside.
Windows and Doors
We offer window and door options that are extremely durable and designed to stand up to whatever Mother Nature throws at them. The glazing systems in our windows and doors feature two panes of glass separated by a layer of rigid plastic, making them nearly impossible to break. Choose from various styles, all of which offer superior energy efficiency.
Aluminum Shutters
Our aluminum shutters will help to keep your windows protected from windblown debris. They can be motorized for easy deployment and equipped with keyed locks for extra security.
Storm Panels
Our easy-to-install storm panels provide a high level of protection and have passed wind-and-impact resistance tests, as required by the Florida Building Code.
Contact Us
To learn more about the hurricane protection products that we have available to homeowners throughout the Port St. Lucie, FL, area, contact Storm Smart today.