Storm Panels for Homes in the Sarasota FL, Area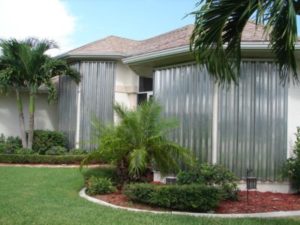 So, you're looking for a cost-effective product that will protect your home in the Sarasota, Florida, area against hurricanes. At Storm Smart, we've got just what you need: storm panels. With our hurricane panels you can say goodbye to the days of rushing to your local home improvement store to buy plywood for your windows and doors. When the threat of a hurricane is looming, all you will need to do is easily deploy these panels and focus on other tasks on your hurricane preparedness list. The best part? Our storm panels are surprisingly affordable, so you can get the protection you need while staying within your budget.
What Makes Our Storm Panels Different?
We offer two different types of storm panels. Our metal panels are available in steel and aluminum, and they're designed to never warp or rot. We also offer clear hurricane panels, which have a see-through design that will allow you to look out of your home while being protected, so you won't have that dark, boarded-up feeling. Both of these storm panels are:
Designed to pass the most stringent wind- and impact-resistance tests as required by the Florida Building Code
Easily deployed along a track, which can be permanently installed on your home or business
Available with an emergency escape panel should you need to get out of your home quickly
If you would like to learn more about the storm panels that we offer to homeowners in the Sarasota, FL, area, contact Storm Smart today. We'll gladly tell you about the financing options available to homeowners who qualify.