How to determine if I need hurricane shutters or impact windows for my home? Is one a better investment than the other?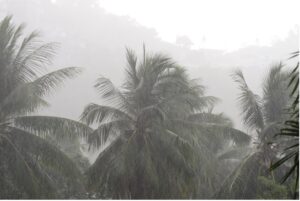 Lush palm trees, warm sunshine, beautiful beaches… Florida has a lot to offer its residents but living in paradise also means contending with the storm season. At Storm Smart, we're Floridians too, and we know how important peace of mind is when there's a hurricane headed our way. As the largest manufacturer and installer of hurricane screens, shutters, and panels, we can shield your home from storm damage so that you can enjoy your tropical lifestyle to the fullest. Our innovative products have helped protect the homes of more than 90,000 local homeowners since our founding in 1996. And, they're designed with your Florida lifestyle in mind by offering privacy and UV protection on bright and sunny days. Contact us today or visit our showroom in Fort Myers or Naples to learn how we can secure your home against the forces of nature. Luckily, there are several choices in storm protection to choose from.
Hurricane windows are three times thicker than regular window glass, meaning your home is already prepared to protect you. Plus, impact glass only needs to be installed once, so you don't need to worry about rushing to get your house ready when you get word of an impending storm.
Shutters are also permanently affixed structures that only need to be installed once, and come in multiple forms, from roll down to wooden Bahama overhangs. Roll down, and accordion hurricane shutters do require some prep time, varying from 15 minutes for the whole house to 15 minutes per window. Because of this prep-time, some people choose to keep their shutters closed throughout our Florida storm season or choose impact glass, which requires no hassle.
In the end, impact glass requires zero prep work, which means you'll be protected on the off-chance that a storm appears out of nowhere or changes directions fast. This is particularly important for seasonal residents, people that travel often, or those who may be out of the area on vacation when a storm occurs.
Which is the better investment?
Both hurricane shutters and hurricane windows are an effective way to protect your home during a hurricane.
No matter which style you choose, plan your project out well before hurricane season and consider professional installation. Now is the time to get a free consultation and choose the best type of hurricane protection for you.