Use Colonial Shutters to Protect Your Home in Bonita Springs, FL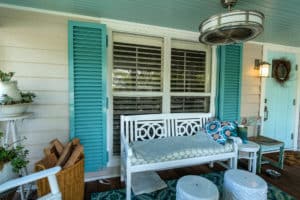 Many homeowners throughout Bonita Springs, Florida, and other hurricane-prone areas prefer storm-resistant colonial shutters—they look just like regular shutters when open, yet they provide top-notch security and protection when closed. Plus, they're much easier to deploy than traditional storm-protection methods. When you choose colonial shutters from Storm Smart, you'll benefit from effortless and stylish storm-readiness.
Easy to Deploy When Needed
When the next storm warning hits your area, you'll have no trouble preparing your home with colonial shutters. They swing open and shut on standard hinges, so you can protect your home's windows at a moment's notice.
Top-Notch Protection With Extruded Aluminum
Storm Smart's colonial shutters are made of durable extruded aluminum, so they're able to withstand the high winds, rain, and hurtling objects of a hurricane. Plus, these aluminum shutters offer superior strength, which makes them a powerful line of defense against intruders and other home security threats.
Stylish Appearance for Optimal Curb Appeal
You need not sacrifice your home's curb appeal for top-notch storm protection. Our colonial shutters are as stylish as they are functional. Since they look just like regular shutters, they'll complement your home's exterior.
Contact Us to Get Started
Colonial shutters are a preferred storm protection option for Florida homeowners. If you're interested in having colonial shutters installed on your Bonita Springs, FL, home, contact Storm Smart today. We can plan a free in-home consultation to get started. Plus, we offer a wide range of other storm protection products, so we can help you decide what will work best for your home.