Storm Smart Donates to Save the Children's Ukraine Crisis Relief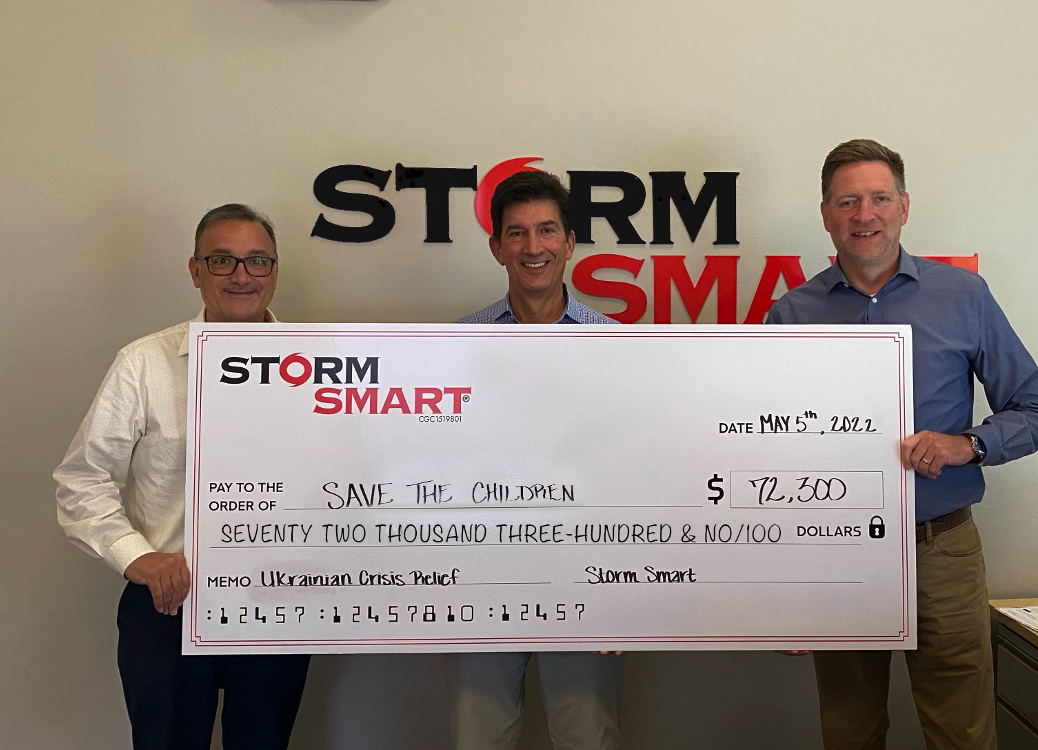 Pictured from Left to Right: David Erlechman (SVP), Scot Burris (CEO) , Brian Cassell (CFO)
Fort Myers, FL. (May 06, 2022) — Storm Smart, the largest storm-protection and lifestyle-enhancement company in the state launched a campaign during the month of April to raise awareness and funds for Save the Children, a global humanitarian organization actively working to meet the urgent needs of children and their families in Ukraine. Storm Smart will be donating $72,300 in May to help aid the Save the Children relief efforts in war-torn Ukraine from the successful campaign.
"Storm Smart has long maintained a culture of caring among its employees, customers, and community," said Scot Burris, CEO of Storm Smart Industries. "As a company and as a community, we need to provide support during the continuing humanitarian crisis, and it's heartwarming to see such a monumental amount of support for the individuals of Ukraine."

About Storm Smart
Storm Smart's innovative products have launched the company to become the largest manufacturer and installer of code-approved hurricane protection products in Florida, with 90,000 customers in Florida, the Caribbean, Mexico, and Guam, since opening its doors in Fort Myers in 1996. The company has a long list of accomplishments, including being named 2021 Manufacturer of the Year which was presented by Lee County Economic Development, Horizon Council, and the Horizon Foundation, 2016 Distributor of the Year and 2015 Manufacturer of the Year, both by the Southwest Regional Manufacturers Association, as well as Business Partner of the Year by the Cape Coral Community Foundation due to their financial and volunteer contributions to the Foundation. Storm Smart is headquartered at the Chicos FAS campus, and its manufacturing facility is at its three-plant campus located at 6182 Idlewild Street in Fort Myers. The company also has two showrooms in Southwest Florida, located at 2351 Crystal Drive, Ste 101 in Fort Myers, and in Naples at 2400 Vanderbilt Beach Road, Unit 102, and will be adding a new showroom in North Port late Summer 2022. For more information, call (239) 938-1000. Online at StormSmart.com.