Storm Smart Holds Ribbon Cutting for New Administrative Offices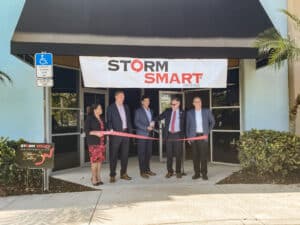 Pictured from Left to Right: Ivy Ronquillo (HR Director), Brian Cassell (CFO), Scot Burris (CEO), Kevin Anderson (Fort Myers Mayor), David Erlechman (SVP)
Fort Myers, FL. (April 14, 2022) — Storm Smart Industries, the largest storm-protection and lifestyle-enhancement company in the state, announced moving its administrative offices in February to a new, larger office space to accommodate continued business growth. To celebrate the moment, Storm Smart Industries held a ribbon-cutting ceremony sponsored by the Fort Myers Chamber of Commerce and the Cape Coral Chamber of Commerce on Thursday, April 14th at 10:00 AM. The new administrative offices are located on the Chicos FAS campus.
Storm Smart Industries, which celebrated its 25th year in business in 2021, will leverage its new office space to expand its customers' services while providing new internal operational efficiencies. The new offices will also provide Storm Smart administration with an improved, state-of-the-art workspace to facilitate internal and external collaboration and communication while providing the company with additional room for growth. All manufacturing and warehousing remain at the existing 6182 Idlewild Street location in Fort Myers.
Storm Smart Industries specializes in storm protection and lifestyle enhancement for home and business owners. The business is committed to providing each and every one of its customers with high-quality service and support. Storm Smart's innovative approach starts with a thorough analysis of what a customer needs to ensure peace of mind during hurricane season.
"26 years ago, Storm Smart began out of Cape Coral as a one-man show in a Garage by Brian Rist; today, approximately 90,000 homes are protected by Storm Smart," said Scot Burris, CEO of Storm Smart Industries. "We're proud of the growth of Storm Smart and are inspired by this community that we call home. More than anything, this move represents our continued ironclad commitment to serving our customers and helping them with all of their storm protection needs."

About Storm Smart
Storm Smart's innovative products have launched the company to become the largest manufacturer and installer of code-approved hurricane protection products in Florida, with more than 80,000 customers in Florida, the Caribbean, Mexico, and Guam, since opening its doors in Fort Myers in 1996. The company has a long list of accomplishments, including being named 2021 Manufacturer of the Year which was presented by Lee County Economic Development, Horizon Council, and the Horizon Foundation, 2016 Distributor of the Year and 2015 Manufacturer of the Year, both by the Southwest Regional Manufacturers Association, as well as Business Partner of the Year by the Cape Coral Community Foundation due to their financial and volunteer contributions to the Foundation. Storm Smart is headquartered at the Chicos FAS campus, and its manufacturing facility is at its three-plant campus located at 6182 Idlewild Street in Fort Myers. The company also has two showrooms in Southwest Florida, located at 2351 Crystal Drive, Ste 101 in Fort Myers, and in Naples at 2400 Vanderbilt Beach Road, Unit 102, and will be adding a new showroom in North Port late Spring 2022. For more information, call (239) 938-1000. Online at StormSmart.com.