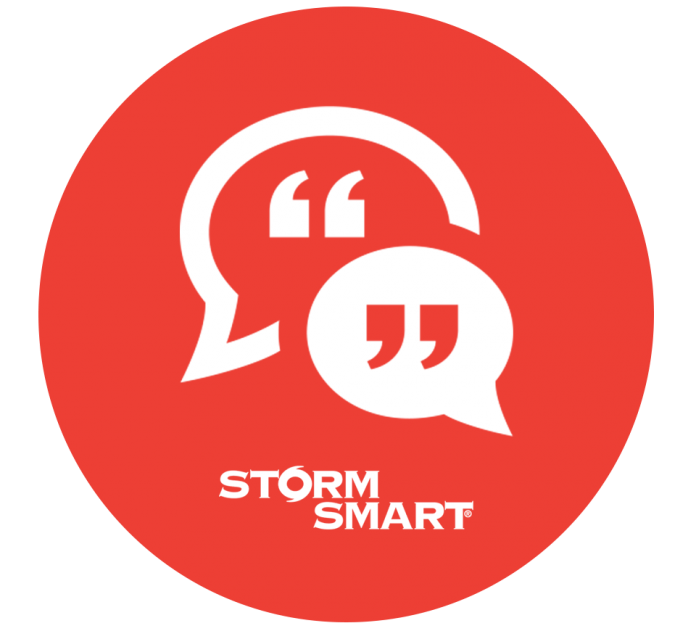 Dear Brad,
We just wanted to tell you how very thrilled we are with Storm Smart and your services. We appreciated that you were knowledgeable and did not high pressure us to make a decision.
We were thrilled with the follow-up and follow-through throughout the whole process. Justin and his helper finished the installation on Friday of this past week. I must commend the two gentlemen for their outstanding workmanship and dedication to do the best job possible. They were always on time. They worked a full day and they cleaned up after themselves every day. They answered our questions and offered suggestions as well.
Friday was a tough day in our household as Ed was really quite ill (had been for three weeks). After two immediate care visits and one ER visit, he was still quite ill. Justin walked me through the final intro to the product and offered to have someone come back when Ed was better. Justin helped me load the car with some very heavy items as Ed could not help. Then I drove directly to the ER room again and this time he was admitted with pneumonia!!! They were so kind and helpful. Ed is still in the hospital but getting better with IV and antibiotics.
As soon as he is able I will drive back to Illinois but thank goodness Justin helped me load the car and I could not do it myself and Ed will be in no condition to help.
Our Realtor was over today to look at everything that we have done and was really impressed with the hurricane shutters. She was even more impressed when I describe the service. I gave her some of your cards. As she sells homes, the new owners ask about shutters so now she has your name!!!!
Please share this letter with management. I cannot recommend you, your company and service enough!!!
Sincerely,
Carolyn and Ed C.
Marco Island