How to Prepare for a Hurricane Power Outage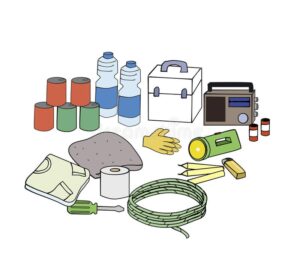 Why having a plan is important
At Storm Smart, your protection and safety during a storm is our highest priority. Our hurricane shutters, screens, and impact windows and doors protect the openings of your homes, but there is much more you can do to prepare. With the uncertainty of when the next powerful hurricane or storm is going to hit your area, having a plan is critical for you and your family. In Florida, summer always brings strong storms from the tropics that could easily develop into a hurricane. Although Southwest Florida has been spared a direct hit for some years now, don't let your guard down. The 2021 Hurricane Season saw 21 named storms, with seven of those becoming major hurricanes. The 2022 season has been slow, but hurricane season lasts from June 1st through November 30th so there is plenty of time for a storm to brew.
A checklist of things you may need if your power goes out
WATER: Having enough water is so important. Loss of power can knock out conventional water supplies. You should have at least one gallon per person daily for 3-7 days. Many people fill up their bathtub with water or have an extra reservoir, so you don't need to use drinking water for washing dishes, bathing, and using the bathroom facilities.
FOOD: If the power is out, you will not be able to use an electric appliance like a stove, microwave, or a fridge. You may consider getting a propane or charcoal grill to have the ability to cook even without power. Either way, you should prepare to have non-perishable packaged or canned food and, if necessary, formula and food for infants for at least seven days.
FOOD SUPPLIES: Make sure you have a non-electric can opener, paper plates and plastic utensils. You want to avoid using your drinking water to wash dishes. Disposal is best in this situation.
GRILL SUPPLIES: Make sure you have a full propane tanks or charcoal, and any other supplies you may need for cooking with your grills.
BATTERY SUPPLY: Make sure your cell phones and back-up batteries are fully charged. Also, have enough batteries for anything you may need that is battery operated.
WEATHER RADIO: Keep a battery-powered or hand crank weather on hand, so you can keep up to date with the latest storm forecasts.
MEDICINE/FIRST AID KIT: Refill your prescriptions and make sure you have enough of any medication or medical supplies you may need. Also have a First Aid Kit on hand that you can easily transport in case of an emergency or evacuation.
CASH: Have cash on hand. Without power, many banks or ATM machines may not be working.
GAS: Make sure you have a full tank of gas in your car and any extra gas you may need for a generator. Always, properly store your gas.
PET SUPPLIES: Have enough food, water, and medication, along with ID and vaccination information you will need for your pets. Also consider any other supplies you think is critical to the comfort and care of your animals. (i.e., toys, blanket, bed, leash, harness, etc.)
OTHER NEEDS TO CONSIDER: flashlight, coolers with ice, battery operated fan, clean towels, toilet paper
Also: 
Put important documents, like insurance and Social Security cards, bank account and credit card information, medical records, birth, and marriage certificates, in waterproof containers.
If you have a generator, make sure it is at least 20 feet from any enclosed structure. Never run a generator inside.
How power is restored:
That depends on your utility, namely Florida Power & Light and the Lee County Electric Cooperative, in our area. Both utilities have priorities when restoring power, including hospitals and senior living facilities first and any other essential services. Both utilities will work diligently to get power restored, depending on the significance of the outages.
If you should evacuate
Many low-lying areas in Florida are in mandatory evacuation zones. Should you leave, make sure you:
Know your evacuation routes. Lee County and municipalities in the county have evacuation routes posted on their websites.
Designate a family member or friend in a safer area who could house your family during an evacuation.
List a family member your family will contact if you are separated.
Know that pets are not allowed at Red Cross shelters and many other emergency shelters. List pet-friendly shelters or vets in your area that offer emergency boarding services.
OTHER PRIORITIES DURING STORM SEASON
Preparing and strengthening your home should be one of the top priorities. In addition to gathering the previous list of supplies, you should:
Protect the openings of your home. At Storm Smart we provide Storm Catcher® Screens, shutters, panels, and impact windows and doors. If you have shutters already, make sure they are properly maintained.
Bring in outside furniture, garden and lawn décor, and any items that could be picked up by wind and become flying projectiles.
Designate a safe interior room where your family can stay during the storm.
Make sure drains and gutters are clear of debris.
Know your child's school or daycare disaster plan and have a list of important contact numbers.
List neighbors who have emergency medical training.
List neighbors who live alone and may need help.
For more information on preparing for storms and power outages, go to:
https://www.floridadisaster.org/planprepare/hurricane-supply-checklist/