High-Quality Hurricane Protection Products Available for Homeowners & Business Owners in Naples, FL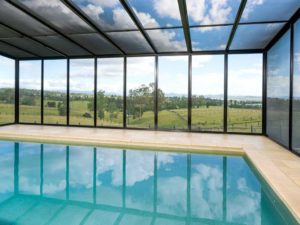 While Naples, Florida, is a wonderful area that is renowned for its beauty, beaches, and outdoor activities, it also a place that experiences hurricane threats every year. If you own a home or business in this area, you'll want to take every precaution to protect your property from incurring damage from one of these storms. That's where Storm Smart comes in. Since our founding in 1996, we have helped many property owners throughout the Naples area keep their homes, businesses, and loved ones safe by providing them with hurricane protection products, and we can help you, too.
A Fantastic Selection of Hurricane Protection Products
At Storm Smart, we not only want to help you protect your home or business from storm damage, but also help you enjoy the Florida lifestyle more. That's why we offer the following hurricane protection products:
Storm Catcher screens – Our hurricane and solar screens are strong enough to stand up to hurricane-force winds and will also reflect the sun's rays from entering your property.
Windows and doors – The replacement windows and doors we offer provide exceptional protection and energy efficiency. All of the glass in our doors and windows is separated by a layer of durable plastic, which makes our products incredibly hard to penetrate and will help to prevent wind damage and break-in attempts.
Aluminum shutters – Our aluminum shutters will protect the windows on your property by taking on the impacts of wind-blown debris during a storm. These aluminum shutters are available in a variety of styles including Bahama, colonial, rolling, and accordion.
Crimsafe security screens – Made from an extremely strong steel-mesh material, our Crimsafe security screens are perfect for protecting your property from debris during a storm or unwanted intruders. These security screens will be custom built specifically for your property and are perfect for screen doors, fixed windows, and patio enclosures.
Storm panels – Perfect for homeowners looking for storm protection on a budget, our storm panels are strong enough to withstand hurricane-force winds, are impact resistant, and will last a lifetime.
Ready to Get Started?
To learn more about the hurricane protection products we have available to homeowners and business owners, contact Storm Smart today or visit our showroom in Naples, FL.