Do Hurricane Shutters Increase the Value of my Home?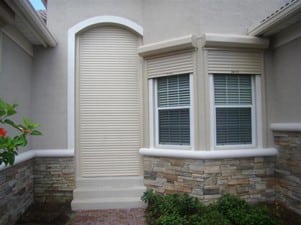 Hurricane shutters protect homes, apartments, condos, businesses, buildings, and more from the harsh realities of hurricane season. When installed and deployed correctly, these shutters can protect investments and people from costly repairs and injuries.
There are many benefits to protecting your windows with shutters. One of the most important factors you will notice after installing hurricane shutters is your physical safety during a storm or hurricane. Hurricane shutters are installed over doors and windows to protect them from debris that may be flung around by strong wind and rain.
Shattered glass poses several safety threats, potentially damaging a property even further or, worse, injuring a person inside. Should a broken window become pressurized, that window will likely be lost, and even more, significant issues could arise inside the home.
Increase your home's value with a variety of hurricane shutters to choose from, such as:
One of the most significant benefits after safety is monetary. You can substantially increase the resale value of your home by installing hurricane shutters on your property. Investing in hurricane shutters will make potential buyers feel more comfortable purchasing a home in a hurricane zone. When it comes time to resell the property, it is a strong selling point for buyers that previous owners have invested in maintaining safety and security.
As soon as hurricane shutters are installed, they start saving homeowners money in several ways:
Having them lowers insurance premiums.
They deter break-and-enter incidents.
They protect a structure, saving owners the time and money it would cost to fix and replace damaged glass or damage after every storm.
Storm Smart is a recognized leader in Storm Protection. Learn More Today!