Strap & Buckle Hurricane Screens
for Superior Storm Protection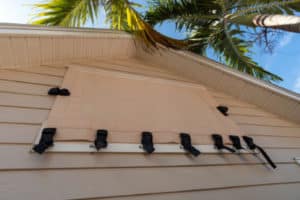 Hurricanes are closely monitored as they approach the state, but they can be tricky as far as where they ultimately land. If you're a Floridian, you've likely gone through the steps of boarding up your home under the threat of a hurricane, only to have the storm turn away, leaving you in a dark, cave-like house and with a ton of uninstalling to do. Fortunately, there's an easier way to prepare for a hurricane, one that takes far less time and effort: strap-and-buckle hurricane screens from Storm Smart.
Why Our Hurricane Screens Are a Better Choice
Our proprietary Storm Catcher Strap & Buckle Screens are made with an innovative monofilament fabric that is strong enough to block up to 95% of wind energy. In fact, these screens have been proven to take the power right out of 150 mph winds and reduce them to a gentle breeze, shielding your home from these destructive forces. Additionally, our hurricane screens are:
Easy to Deploy
There's no need to board up your home days in advance. If a hurricane is expected to hit your area, you'll find that your new Storm Catcher screens are a cinch to install thanks to a convenient strap-and-buckle design. The straps can be looped through eyehooks or around columns and then secured to the buckle—it's as easy as that. The straps and buckles are sewn into the mesh and cross-stitched to ensure an ironclad hold, and the screens can cover nearly any opening.
See-Through
Storm Smart's hurricane screens are translucent, eliminating the tomb-like feeling of a boarded-up house. Plus, you'll be able to see through the screens so that you can watch what's happening outside of your home.
To view our strap-and-buckle hurricane screens in person, feel free to stop by our showroom in Fort Myers or Naples. You're also welcome to contact us to learn more about the Storm Catcher series and the lifetime warranty that will be included with your purchase. Storm Smart is proud to serve homeowners throughout southwest Florida.