Sliding Window Screens
That Offer the Utmost Protection From Hurricanes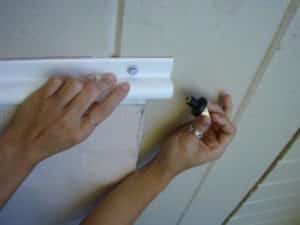 When a hurricane threatens, Florida homeowners tend to flock to the nearest home improvement store to stock up on plywood boards for their windows. And while the boards may stop impacts from flying debris, they offer disadvantages: Not only are they heavy and unwieldy to install, but they also seal up your home like a tomb where you'll be left to ride out the storm in the dark, unable to see outside. For a better solution, turn to Storm Smart for our easy-to-install and highly effective sliding window screens.
Benefits of Storm Catcher Slide Screens
At Storm Smart, we manufacture our own sliding window screens to ensure the utmost craftsmanship and performance. Indeed, our hurricane screens are some of the most technologically advanced storm-protection solutions on the market and are prized for:
Effective Performance
The tightly woven monofilament fabric of the screen is formulated to reduce wind velocity by up to 95%. Even gusts of up to 150 mph are no match for Storm Catcher, which will reduce these violent blasts to mere whispers.
Easy Deployment
Storm Catcher Slide Screens are one of the most easily deployed of the series. Simply slide the mesh into low-profile tracks and secure in place with fasteners.
Translucent Design
Our hurricane screens will allow natural light to enter your home, sparing you the feeling of living in a bunker. And you'll be able to see out so that you can keep an eye on what's going on outside your home.
A Team That Cares
When you partner with us for hurricane protection, we're confident that you'll enjoy the Storm Smart experience. Our goal is to provide you with peace of mind that your home in Fort Myers or elsewhere in southwest Florida is well-protected from violent storms, and we'll do everything in our power to do exactly that. We'll even include a lifetime warranty with your sliding window screens for added assurance that you've invested in the right product for your home.
To learn more about Storm Catcher Slide Screens, contact the professionals at Storm Smart today.