Storm Catcher Screens for Homes in the Bonita Springs, FL, Area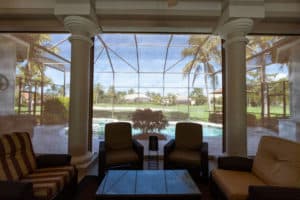 Imagine if you could wrap armor around your home that would shield it from hurricanes and other severe weather conditions in Bonita Springs, Florida, year after year? Now imagine that you can tuck away the armor when it's not needed and instantly deploy it when it is. How convenient would that be? At Storm Smart, we offer that armor in the form of our industry-leading Storm Catch screens. We are the largest manufacturer and installer of code-approved screens and other hurricane protection products, and we distinguish ourselves from our competitors for our:
Quality Selection
In stark contrast to aluminum shutters, Storm Catcher screens are fabric-based and lightweight, and will shield your home from extreme elements while also letting in natural light and fresh air, so you don't feel like you're in a cave. Our screens also reflect UV rays, enhancing the energy efficiency of your home and preventing your furniture from fading.
Since we know that no two homes—or homeowners—are alike, we offer a variety of Storm Catcher screens to choose from. This includes our strap and buckle screens, slide screens, and roll-down screens, all of which can be used quickly and easily. This means that instead of frantically boarding up your windows and doors with plywood, you can simply deploy your screens and take a deep breath—the hard part is already over!
Expert Installers
We have a team of certified technicians who are full time, never subcontracted, and will use the utmost skill and expertise to install your screen in a way that ensures it performs as intended for many years to come.
Ironclad Warranty
To instill confidence in our customers we are happy to back our Storm Catcher screens with a lifetime warranty, so you can have total peace of mind in your investment.
Contact Us Today
If you would like to learn more about our company and the Storm Catcher screens we offer to homeowners in the Bonita Springs, FL, area, give our helpful and knowledgeable professionals a call today.