YOUR WINDOWS AND DOORS OF OPPORTUNITY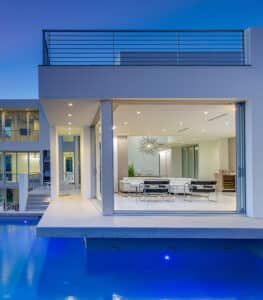 The right kind of windows and doors serve two primary purposes: providing storm protection and additional security. Here are tips from Storm Smart – an industry leader in storm protection – on how its newer product Smart View impact glass windows and doors are hurricane ready all the time, providing security, UV protection, improving home energy efficiency and reducing outside noise. Storm Smart is proud to present its exclusive line of Smart View impact glass windows and doors manufactured by Eastern Architectural Systems. With our Smart View windows and doors, you will have the most efficient and aesthetically pleasing hurricane protection for your home that will last a lifetime. Smart View windows and doors are available in aluminum and vinyl options.
Now is the time to invest
After the horrific experiences many residents lived through during Hurricane Ian, there is no greater time than now to invest in the strength and reliability of impact-resistant windows and doors. They provide you the confidence you want when ensuring the safety of your home and family. With the simple click of a lock, your SmartView Windows and doors will be fully prepared to withstand the strongest of winds and driving rain.
Why impact glass is important
Impact Glass, also known as Laminated Glass, is typically found as two pieces of glass with an interlayer made of a durable plastic, which serves as the 'backstop' for flying objects or possible intruders. Nearly impossible to penetrate, this glass style replaces the need for hurricane shutters and can also reduce your energy costs.
Why the windows are energy efficient and provide UV protection
Low-E glass, an abbreviation for "Low Emissivity," is a special clear coating that comes standard on your Smart View Windows. The coating blocks UV rays while optimizing light transmission. In hot months, its heat deflection characteristics will lessen the demand on your air conditioning system, saving you money.
The popularity of Smart View Aluminum Impact Windows & Doors
The Smart View aluminum windows provide the strength and durability when they are needed the most during hot, humid summers and an unpredictable hurricane season. Smart View aluminum windows and doors have been the popular choice for discerning homeowners looking for impact-resistant window systems.
The features of Smart View aluminum windows and doors:
Heavy-duty aluminum frames
Impact-resistant laminated glass
Corrosion-resistant stainless-steel hardware
Mechanically fastened corners
Smart View Aluminum windows and doors are tested for:
Large projectile impact
Water resistance
Air infiltration
Intruder entry
Structural integrity
Smart View Vinyl Impact Windows & Doors
SmartView vinyl windows and doors are both impact-resistant and insulated, giving you the best of both worlds in protecting your home and family, as well as reducing your energy bills. Constructed with multi-cavity chambers to help insulate your home and reduce heat transfer from the outdoors to indoors, they also provide a stronger frame, which supports the impact-resistant insulated windows and doors.
Smart View vinyl windows and doors are incredibly durable and resist corrosion, rotting, chipping and peeling. They are very easy to clean and are not susceptible to insect or fungus attack. The windows are proudly "Made In The USA" and are part of the Earthwise Group, which also has the Good Housekeeping Seal of Approval.