Types of Hurricane Shutters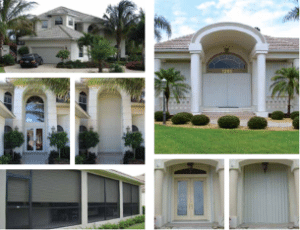 Is your home ready for the onslaught of inclement weather the storm season brings each year? Your doors and windows are particularly vulnerable to the forces of wind, debris, and precipitation. Adequate window and door protection in the form of storm screens or hurricane shutters is essential for keeping your family and your home protected.
According to the National Hurricane Center (NHC) statistics, around 52 hurricanes have struck the US from 1995 to 2021. Of those storm systems, 17 were considered major hurricanes of Category 3 or above. If you live in a hurricane zone, it's important that you're prepared and protected.
Hurricane shutters can be categorized as:
Storm panels are often corrugated metal or plastic panels that are custom measured and cut to fit over your windows and or doorways. Often times referred to shutters, however they are most similar to plywood because they are single cut pieces of material that you cover and secure your windows or doors with before a storm.
Accordion shutters are a more permanent solution to storm protection. They are the hurricane shutters that roll horizontally over your windows glass in order to protect it. They can be one or two pieces that are permanently mounted beside your window and glide sideways on wheels to protect your windows.
Roll down style hurricane shutters are mounted directly above windows and roll down vertically in order to cover the glass. They are often assisted by a button or a crank system. This style of hurricane shutter is popular because of the endurance and easy use.
Colonial shutters are a system of two pieces on a louvered storm system. The Colonial shutters are mounted on both sides of the window, and you simply flip them over the glass pane of the window to prevent and protect from storm damage.
Bahama shutters are similar to the Colonial style in their operation system. They too operate on a louvered system. However, they are just one piece that is mounted above the window and props open when not in use. When a storm is on the way you simply lower and lock the shutter over the window to protect the glass.
When it comes to comprehensive storm protection, there's no better partner than Storm Smart. Storm Smart is the largest hurricane-protection company in Florida and has the most reliable and intelligent products available. We offer a full line of technologically advanced systems for home and business. Whether you're building, replacing outdated energy-wasting windows and doors, or needing to protect your home and family better from hurricane force winds, Storm Smart will help you every step of the way. Simply call us for a free estimate and expert consultation.