Top-of-the-Line Hurricane Protection Products Available for Homeowners & Business Owners in Cape Coral, FL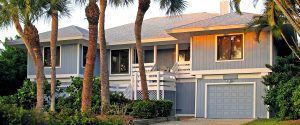 When you're looking for a company you can turn to for hurricane protection products you can depend on, Storm Smart is the company to call. Serving residents in Cape Coral, Florida, and throughout the surrounding areas, we have dedicated our company to helping homeowners and business owners protect their homes from damages caused by storms.
Our Hurricane Protection Product Options
Storm Smart has earned a fantastic reputation throughout the Cape Coral area for not only meeting our customer's expectations, but exceeding them. When you partner with us, you'' be able to choose from the following options:
Storm Catcher screens – Ditch the clunky plywood boards that turn your home into a cave with our storm catcher screen options. These screens are easy to install and can reduce wind speeds by up to 95%.
Windows and doors – Our glass in our windows and doors are crafted with two panes of glass that are separated by a layer of plastic, making them nearly impossible to break. They are energy efficient, available in a variety of styles, and offer numerous other benefits.
Aluminum shutters – These window shutters offer superior protection from storms and can even be equipped with keyed locks to protect against intruders, which his especially helpful if you're leaving town to avoid a storm.
Crimsafe security screens – These impact-resistant screens have passed impact-resistance tests at 244 mph. They offer tremendous protection, and can even block out UV rays, making them a great addition even on sunny days when no storms are in sight.
Storm panels – These cost-effective storm panels are easily deployed along a track and have passed wind-and impact-resistant tests as required by the Florida Building Code.
What's more, we also have a showroom where you can see these products up close to get a feel for how they'll look on your home or business.
For more information about the hurricane protection products we have available to homeowners and business owners throughout the Cape Coral area, contact Storm Smart today.